Our Customers Say It For Us.
"I was a picky bride. I wanted very specific details just right, and did a lot to make sure it happened. So, when it came to music, I honestly had no idea where to go but wanted it to be great. I had read nothing but great reviews about Platinum Disc Jockeys, and after speaking on the phone the first time with Brian, I knew it would be nothing short of what we wanted! He was very easy to talk to, straight to the point, and his website for all of the details of not only music, but for the emceeing part, were perfectly mapped out and easy to set up. He also was great with last minute changes and got back to me right away with every phone call and email. We also got a great deal with having the photobooth along with the DJ, and it had LOTS of props, and was a huge hit with all of our guests - both young and old. Would highly recommend! We got nothing but great comments! Thank you"
Holly – Inn at Lambertville Station
"Thank you so much Brian. The photo booth was a huge hit. It added to the whole fun element we were trying to create for Mandy and Matt. Your professionalism was appreciated. We will definitely refer your services to anyone in need in the future. You get 5 stars from us.  Have a Merry Christmas and happy holidays.
Mary Wheeler- Columbia Station
"Hi Brian, I was super bummed that I missed the party.  I started working on it back in September L.  I heard great things about you and the photo booth!  Thank you so much!!
I am looking forward to seeing the photos.  I heard people had a blast! Thanks so much!"
Lori- Presidential Caterer's
"Just wanted to thank you one more time for the job well done on Saturday night for Erin and Andrew at the William Penn Inn. We had a partying crowd and you did not disappoint!!!!  The music choices were perfect, your energy was just what we needed......not intrusive but perfectly timed and not too loud but all good party atmosphere!!!  The photo booth was a HUGE hit. Never saw one like that and we all LOVED it!!!!!!!!! Especially liked that you made copies for the bride and groom. So much fun!!!!!!!  We thank you from the bottom of our hearts!"
Sherry and Art Havier
"Hi Brian! I just wanted to take a moment to thank you for all of your hard work last week at my wedding! You did an amazing job from start to finish, and for that I am truly grateful. Timothy and I are still getting compliments about the music and how everything was presented. In addition, our guests are still raving about the photo booth. I am so glad we chose to have one! It was a huge hit. And your sons were fantastic---so polite and courteous! I will definitely keep you in mind for future events. Tim's 30th is coming up in May....who knows what will happen. Thanks again for everything!"
Julia Jaquillard- William Penn Inn
"Along with DJ services, we also had Platinum DJs do a photo booth for our April wedding and couldn't be happier with our choices. From start to finish, Brian was responsive and clearly a seasoned professional. He offered good suggestions and guidance but we clearly had the final say and he met our needs regarding song choices that weren't standard fare (the bride marched out to My Chemical Romance's 'Black Parade' and the first dance was to the Yeah Yeah Yeahs). The photo booth was a big hit and was smoothly run. We wouldn't hesitate to recommend Platinum DJs to anyone seeking DJ/party services!"
Copperfield's
"We had Platinum DJ's photo booth for our wedding on March 20th, 2015 and couldn't have been any happier! The open style photo booth was perfect. I'm sorry that I can't remember the names of the two attendants running the photo booth but they were OUTSTANDING!! I really appreciated that they pulled us aside before everything started to make sure we got a picture together as husband & wife! They arrived early and had everything set up and ready to go. Also, set up was quiet! Where the photo booth went was in the same room as the ceremony behind a curtain and no one had any idea. They were very accommodating as well! When they were packing up and already had everything shut off, me and my bridesmaids came in to take a photo (without knowing they were done!) and they turned it back on for us for one last photo strip!! Awesome experience. We love that we got two discs, one of the full strips and then one of the individual photos. Our guests loved it! Thank you so much!! Highly recommend."
"Brian - Thank you for helping make the reception such a memorable one. Drea and I were happy to see so many people on the dance floor throughout the reception, and we have you to thank for that. If we ever have another event where we need a DJ, we'll be sure to contact you."
Steve & Drea - September 8th - Inn at Lambertville Station
"Brian - thanks so much for a great night. We had a blast and so did the entire party. We will recommend you to as many people as we can. Thank you!"
Michael & Kerin Weed - October 6th, Center Square Golf Club
"Hi Brian - Jerry was AWESOME! He totally engaged with my guests and helped make the night a big success!! I will gladly recommend you guys to everyone I know. Thank you."
Matt S - October 6th, - Cutillo's
"Dear Brian - I just wanted to say thank you! We had such a blast and several people commented on how they had never seen Chris dance so much. One of our groomsmen said that he had never been to a wedding where so many people were dancing. Thank you so much for creating a wonderful atmosphere. We will be sure to recommend you to anyone looking for a DJ!"
Leigh Ann & Chris Nocera - The Phoenixville Foundry - November
"Just wanted to send my sincere thanks to Jesse! She was truly wonderful to work with and while the surprise party backfired on us a bit- she kept the entire party entertained- especially the kids who adored her. Thanks again for your time and great service!"
Amy H - May 16th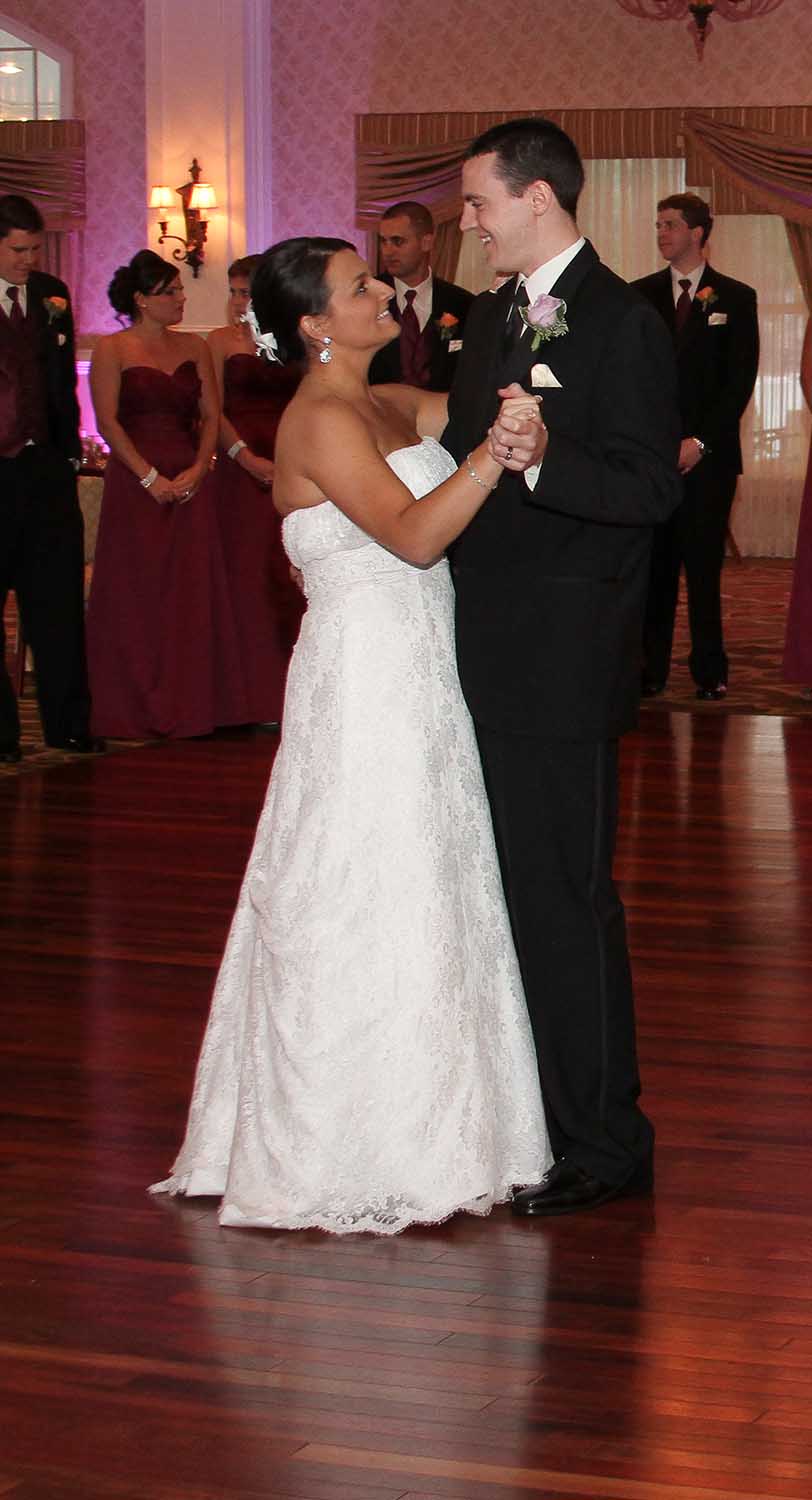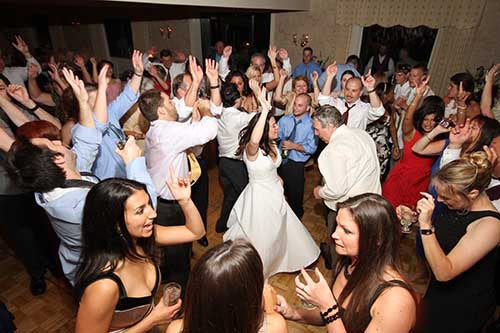 "Excellent job last Saturday! You are a true pro. Thanks for everything, Kelly and I will gladly recommend you to anyone- all the best!"
Peter & Kelly, November 20 The Waterford Room at The Radisson Valley Forge
"Brian- thank you so much for making  my wedding the best party of my life! You were AMAZING....and I've already given your number to a couple of my friends...thank you so much."
Kristin & Dennis McGill October 16th, Knowlton Mansion
"Hi Mike - Andrew and I just wanted to thank you for doing such a great job last night. You played everything that we liked and you did everything just right, we are so happy that we went with Platinum DJ's!
Nina & Andrew October 23rd  -  Loch Nairn GC
"Brian - You were wonderful! I will recommend you to any of my clients that need a DJ. The dance floor was always full and several family members commented on the great music you played."
R. Miskiewicz, October 3 Event,  La Massaria at Bella Vista
"I just wanted to let you know Mike did a great job DJ'ing our wedding! He was awesome and we could not have asked for any better. Rest assured that you have our business should we ever need a DJ again, and our cousins who are getting married next summer want to book Mike for their day as well!"
Megan L. September 11 wedding - Center Square Golf Club
Let's start planning your event. Call right away.
610.409.8757